Home Page ->> High Pressure PU Hose
High Pressure PU Hose
High Pressure PU Hose
High Pressure PU Hose is one kind of high pressure tubing in Pneumatic tubing family ! Specially application to high class machines, air pump, air tools, high class automation system with high pressure requirement !
High Pressure PU Hose with polyester yarn braind net in the middle. Also it is envirmental friendly product to replace PVC hose and rubber hoses !
Retaled
"High Pressure PU Hose"
Products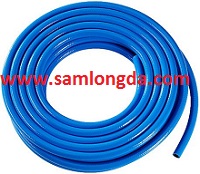 Polyurethane Braid Reinforced Hoses are designed for high quality pneumatic system, high pressure compressors and air tools and so on. Working pressure: 15bar ---20bar,Burst pressure: 60bar Temperature Range: -20--+60º C Colors available: Blue, Red, Black, Transparent, ...

Check for detail