Home Page ->> High Pressure PU Hose
High Pressure PU Hose
High Pressure PU Hose
High Pressure PU Hose is one kind of high pressure tubing in Pneumatic tubing family ! Specially application to high class machines, air pump, air tools, high class automation system with high pressure requirement !
High Pressure PU Hose with polyester yarn braind net in the middle. Also it is envirmental friendly product to replace PVC hose and rubber hoses !
Retaled
"High Pressure PU Hose"
Products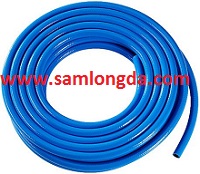 Chanle hose and Samlongda company design the High quality Polyurethane Braid reinforced hose which is exporting to Germany for compressed air system. Polyurethane Braid Reinforced Hoses are designed for high quality pneumatic system, high pressure compressors and air too...

Check for detail