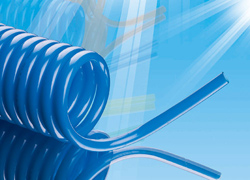 SAMLONGDA Plastic Industrial Co., Ltd is the high tech enterprise of Industrial hose, plastic tube for air and water with 100% new material.
Pneumatic tube -- PU tube, PU spiral hose, PU reinforced tube, nylon tube, PA 12 tube, PA11 tube, PA6 tube, PE tube , EVA tube for Pneumatic system. Pneumatic fitting and coupling are avaiable.
PVC hose -- PVC layfalt hose, PVC reinforce hose, PVC steel wire hose, PVC suction hose, PVC spray hose, PVC clear hose, garden hose and so on.
We are continual in designing, developing, marketing other kinds of plastic tube, concentrating our efforts to supply high quality Industrial hose. OEM servise is available. Looking forward to cooperating with you.


Our Products range: >
Polyurethane Tubing (PU tube) for pneumatic system.
>
TPU Braid Hose—high pressure
>
Nylon Tubing—(PA 6 or PA 12 tubing)Hihg pressure & temperature pneumatic system, painting industry.
>
EVA Tubing—low pressure air tools,Anhydrous Ammonia & Liquid Fertilizers.
>
ANTI SPARK TUBE—Auto Welding system.
>
PE Tubing—drinking water system, low pressure pneumatic system;
>
PVC Hose—normal industrial, Food industry, Irrigation system;
>
Layflat Hose—Drip irrigation, Riego, water pumping;
>
Pneumatic Component--Fitting, Qick Coupler,Auto hose reel, Air Blow Gun, Duster.
Serve Industries: >
Pneumatic Industrial/ Pneumatic Pipeline/Electronic pneumatic/Pneumatic tools
>
Automotive industrial/ Automated assemble lines/processing control system
>
Gas Pipeline/non-corrosive chemical transmission system
>
Gardening/agriculture
>
Industrial & Home Waters
>
Marine Industry
Our strong points: >
Experience: more than 15 years experience in PU tubes. Technicians with 20 years experience
>
Management: According to the requirement of ISO9001: 2000
>
Research and Development: Putting 20% of turnover into R & D, continuously supply new and high technical products.
>
Raw material: 100% new material.
>
Mission: Customer satisfaction + Quick delivery time.